By
Grey
-
Posts: 3255
Joined: Mon Jul 26, 2010 3:48 pm
- Fri Jan 07, 2011 4:25 pm
#82206
Introduction
The Utricularia (or "bladderwort") is the largest group of carnivorous plants with over 200 known varieties currently documented. They get their name from the way they trap their prey: they produce stolons which are packed out with tiny, microscopic "bladders" which activate when micro organisms (tiny creepy crawlies) brush against even tinier, more microscopic trigger hairs. This activation leads to the "door" of the bladder opening, creating a vacuum which then sucks in the Utricularia's prey and ejects any water that may have entered; the "door" then closes and the trap resets.
The bladders on the stolons of Utricularia.
Unlike other carnivorous plants, Utricularia do not technically produce roots but instead grow a decentralized system of modified stems - this means that they are extremely easy to propagate and repot, as you never need to concern yourself with accidentally damaging roots. Even if a clump of stems/stolons doesn't have any leaves, you'll find that new sprouts will often emerge.
Many varieties of Utricularia regularly produce delicate flowers of varying sizes and colours. Most are very easy to grow and terrestrial varieties are quite happy when placed in any pot, even a tea cup.
There are four main varieties of Utricularia: terrestrial (above ground), aquatic (found solely in water), semi-aquatic (somewhere in-between) and epiphytic ("air plants"). This care sheet relates to the care of terrestrial Utricularia.
Interesting facts
* Some species of terrestrial Utricularia can self-seed (
U. calcyfida
is one example); this combined with the ease at which most Utricularia can be propagated means that they can very readily become weeds in an individual's collection.
Soil
Like most carnivorous plants, terrestrial Utricularia are perfect partners with a potting media made of peat moss, sphagnum and perlite. Other aeration materials such as granite sand works as well. Mine grow in a mixture of peat moss and granite sand at a ratio of 4:1.
Light
Most terrestrial Utricularia are not as fussy when it comes to light as other carnivorous plants, but certain species can be sensitive to harsh, direct light (a good example of this is
U. calycifida
). I'd recommend treating their lighting conditions as you would a Dionaea Muscipula, but don't worry if you find yourself unable to provide as much light. A bright, sunny windowsill should do nicely for all but the fussiest of species.
Humidity
One of the great things about Terrestrial Utricularia is that they have a relatively relaxed opinion on humidity. As long as humidity doesn't dip below 40% they are quite content.
Containers
Although not recommended for most carnivorous plants, an undrained container can be your terrestrial Utricularia's best friend. Even something as simple as a tea cup can be an ideal home for this plant – as long as you repot once they fill their container! Some species of terrestrial Utrics can self-seed (
U. calcyfida
is one example), this combined with the ease at which Utrics propagate anyway means that certain species may become a weed in your collection, so it's important to ensure your container is large enough to accommodate the plant if you want a particularly big one.
Water
Like all carnivorous plants, pure water is a must. Distilled, deionized, demineralised, reverse osmosis or rain water are perfect for a Terrestrial Utricularia. Keep their soil relatively moist. Some species of Utricularia enjoy an occasional flooding.
Recommended beginner's plants
Some species of terrestrial Utricularia are easier to care for than other; three highly recommended, forgiving species are
U. sandersonii
(more info available below),
U. livida
and
U. pubescens
. If you are unsure of where to buy these plants, or any other species of Utricularia, you could possible try the
list of carnivorous plant suppliers
.
Utricularia Sandersonii
From South Africa, the Utricularia Sandersonii grows very vigorously. I have one of these and despite losing half its root system it is still thriving. They produce beautiful pale lilac flowers that look like bunnies. The flowers are usually only a few millimetres across, but are large enough to be seen and to be beautiful.
They flower freely throughout the year and look wonderful in any room of the house.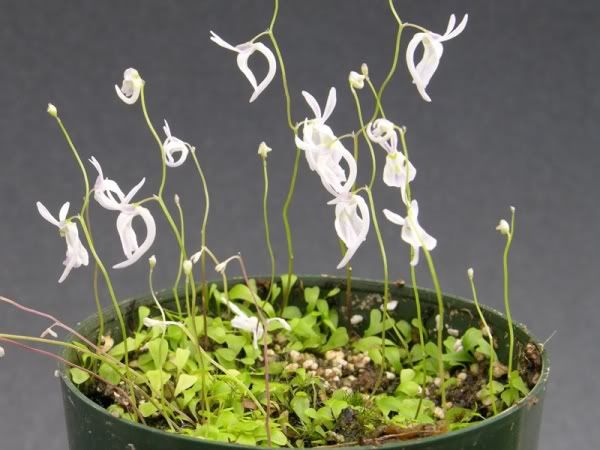 A Utricularia Sandersonii in full bloom.
Photographs courtesy of Google Images.
Many thanks to w03 for the help ensuring that this guide is as up-to-date as possible!