By
goldslinger
-
Posts: 772
Joined: Thu Jul 09, 2009 1:31 am
- Wed Sep 23, 2009 2:42 am
#26187
I have Some Small, (2 inch Diameter) and Medium (3 inch Diameter) 'Green Dragon' Cultivar made from Cuttings off 8 Year old Parents Several Months ago that are settled in nicely and are now surplus that I would like to trade bare root for another variety of VFT bare root shipped. Maybe a cupped trap, Dentate, whatever.
If You know about Green Dragons, then You know they are VERY hardy and relatively fast growing; mostly burgandy red with Green fringe. Have the typical long Summer Leaves, and rosetted Spring and Summer. I've gotten 1.75 inch traps off of the parents in the growing months.
I know I'm new here, but have been a member of 'Terraforums' since 2002 and I am ebay member 'goldslinger' if You want to check my 100% rating there with over 400 transactions on that site; not a single negative, not even a neutral.
I am a jeweler and here is My website is You want background on Me.
http://www.gipsondj.com
I can afford to buy whatever online, but trading with members has its own rewards and is more fun!
I WILL BE TAKING DEALS FOR THE NEXT 5 OR 6 DAYS SO I CAN SHIP THEM ALL AT ONCE WHEN THE WEATHER WARMS UP A BIT HERE
See pics below for sample of actual stock taken a day ago.
Medium sized with Fall Rosette.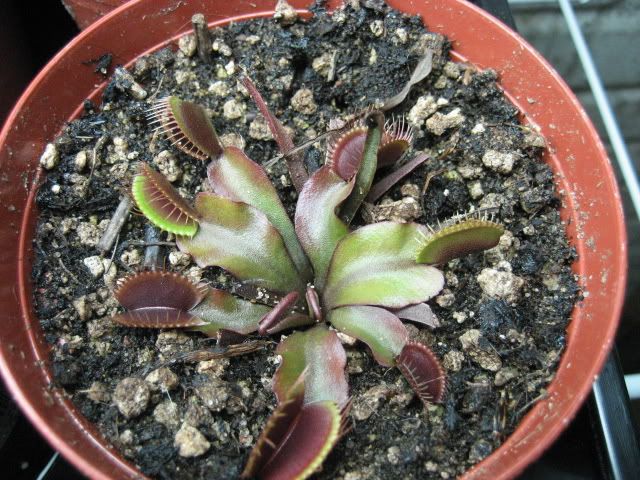 mediums in the middle and smalls in the forefront and back so when I say small, I don't mean tiny!
Last edited by
goldslinger
on Wed Oct 14, 2009 9:16 pm, edited 3 times in total.
The Beatings will continue until Morale improves!