By
Fishkeeper
-
Posts: 732
Joined: Sat Dec 03, 2016 10:59 pm
- Thu Jan 12, 2017 3:20 am
#283698
Thought I'd try to rescue some CPs from Lowes. Got a couple of healthy-looking VFTs, and three "terrarium kits", each with a sarr bulb and a VFT bulb, that were on sale for $3 each because nobody wanted them.
Felt sorry for the mostly-dead ones, but I thought I should go for a couple that might survive. These two were the least spindly and look like they might develop some nice colors eventually. Any way to tell if they're going dormant without knowing the growth habits? The traps are still going, if that helps. I accidentally put my thumb in one and it closed very quickly.
The one with more leaves turned out to be two. Here are all three of them, on top of the incredible amount of moss that was packed into those pots. That heap isn't even fluffed out, it's still mostly compressed. I assume this was meant to help them retain moisture. Their roots are coated in some sort of dirt, presumably their original growth medium.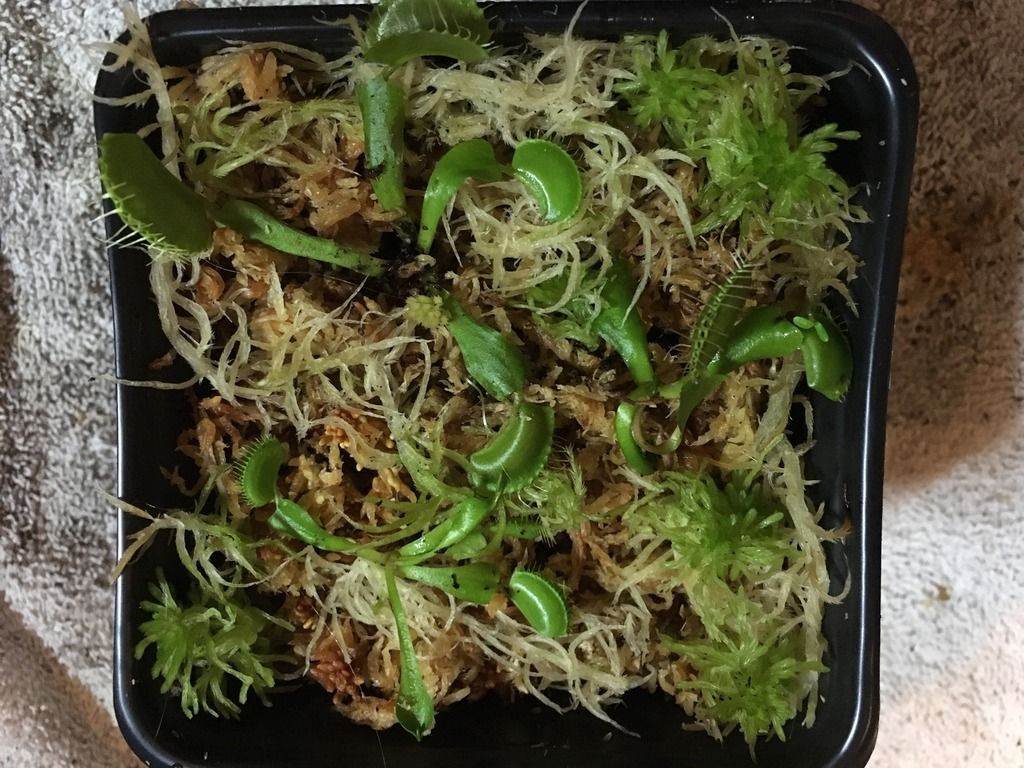 Potted them all up with my own sphagnum moss (to be sure it's mineral-free) and a bit of live stuff on top. They're currently under my grow rack so they won't get much sunlight at first, I don't want to shock them.
Would feeding them be helpful, or should I put them somewhere coldish and let them go dormant? The leaves are all sort of curled in, and I'm not certain what that means.
The kits turned out one poor sarracenia tuber that was trying very hard to grow but couldn't find any light, one that wasn't growing at all but seems heavy enough to probably be alive, and one very spindly tuber that seems probably alive. One VFT that was trying to grow, one that wasn't but seems healthy, and one (in the same bag as the spindly sarr) that I couldn't find. I stuck the dirt from that bag into a tiny pot and watered it, and I'll check now and then if anything is growing, just in case it's a very tiny bundle of roots.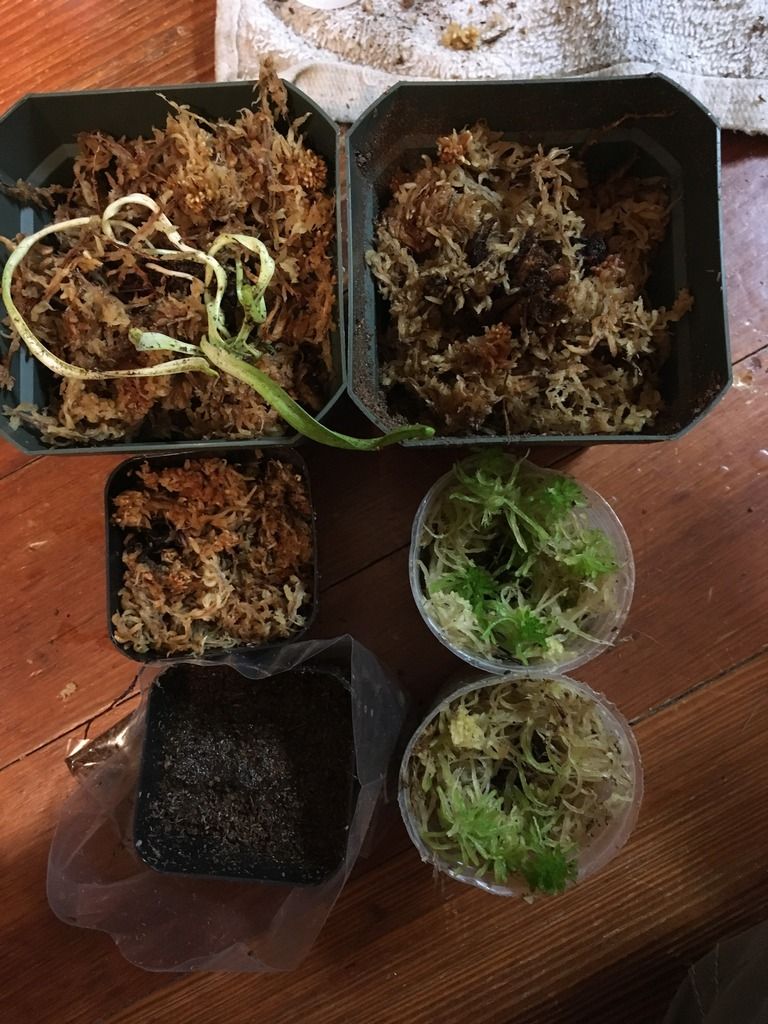 I threw out the sphagnum moss they'd included, as it was dingy and looked like it might be rotting a bit. Considered using the dirt that was included, as it looked like the right composition for CP soil- mostly just decayed-down organic material, very light- but I couldn't use it because I could not re-moisten it. It was incredibly hydrophobic, so much so that holding it down in water failed to soak it. I still have the dirt, it smells like good dirt, but I didn't use any.
Top two are the sarrs in LFS because I didn't have anything else to put them in, the square mossy pot is the tiny sarr, the square bagged pot is the dirt that mmmaybe has a VFT, and the two round pots (those pots you get orchids in from the grocery store) are the VFTs in mostly live sphagnum because I ran out of the dead stuff.
Any tips for keeping these guys alive? The twisty sarr I'm guessing will grow weirdly and maybe perk up if it's gradually introduced to more light, the two other sarrs will probably sprout just fine, and the VFTs look like they're probably going to be just fine on their own.
On an almost completely unrelated note, some healthy finds.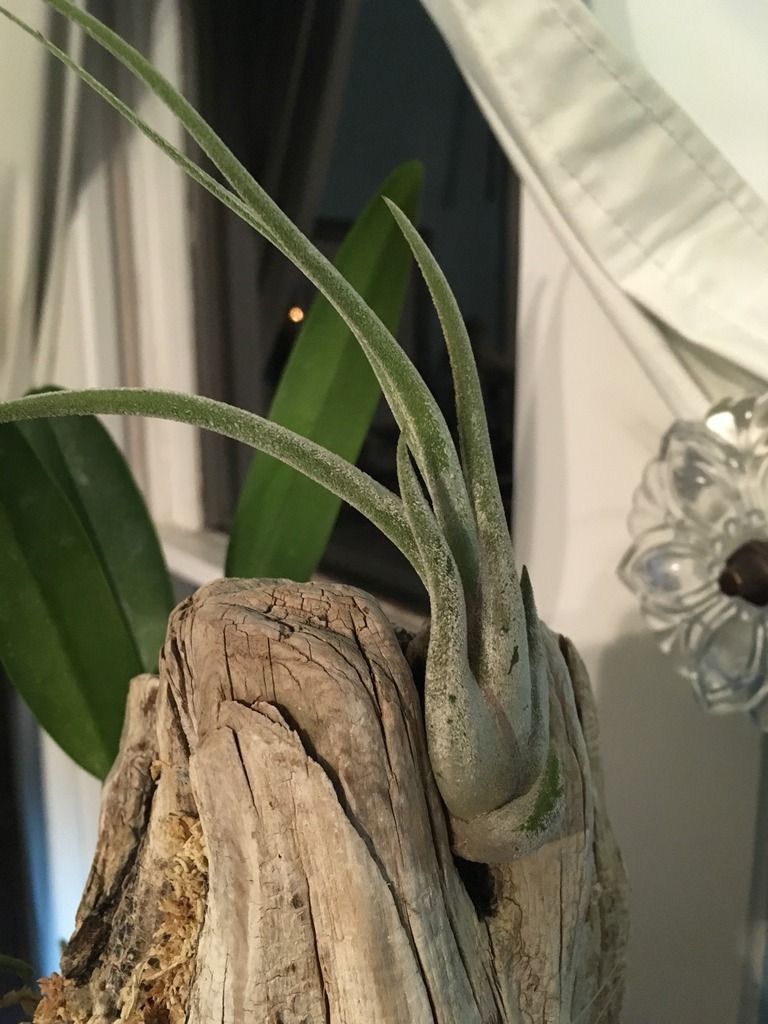 Tillandsia meduseae, part of my "can I keep a bunch of epiphytes happy on this piece of driftwood in my room" experiment. Seems totally healthy.
Cattleya orchid, also on the stump. Leaves are a bit dark, so it wasn't getting enough light, but that's not surprising. Hoping it'll like indirect light from a South-facing window. Lots of healthy-but-thirsty roots.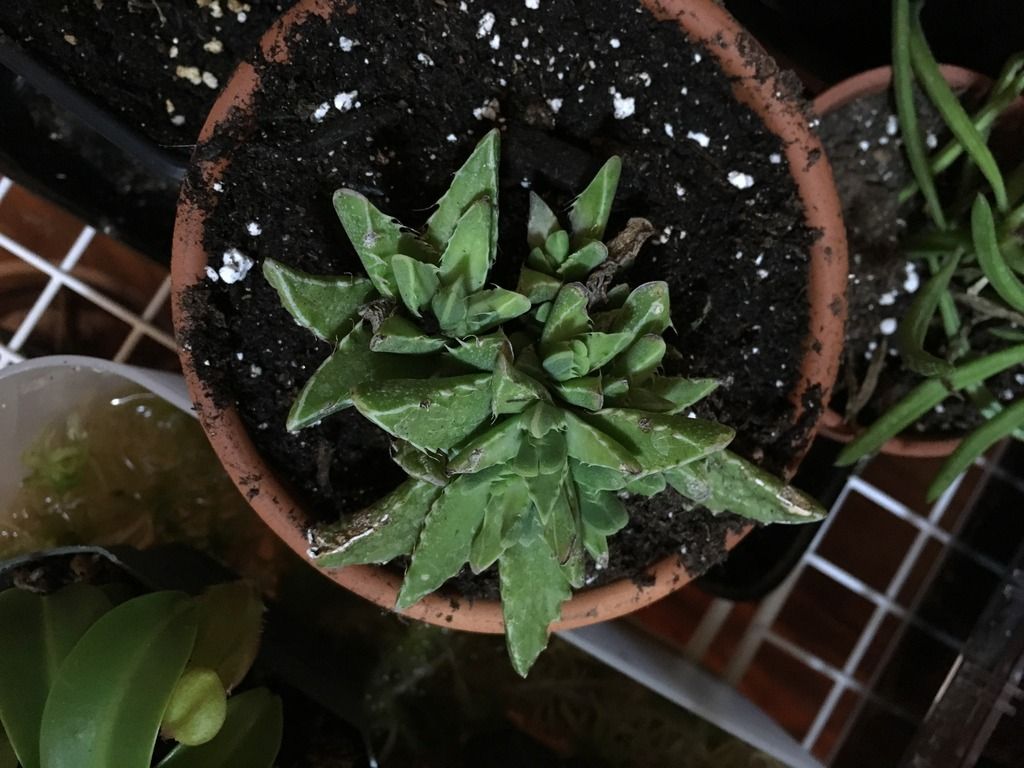 Tiger jaw plant in a new pot. Hoping it'll flower eventually. Looks maybe a bit light-deprived but seems healthy.